>
>
>
What Is The Structure HDMI Active Cable
What Is The Structure HDMI Active Cable
As the price of copper wire continues to rise and the mass production of photoelectric conversion modules, fiber optic cable is gradually replacing copper wire as the main force; today we will come together to understand the HDMI fiber optic cable, namely: HDMI-AOC (active optical cable).
it is an HDMI cable that uses optical fiber for the HDMI signal transmission line and integrates it into the photoelectric conversion wire interface. Fiber is an abbreviation for optical fiber, a fiber made of glass or plastic. Can be used as a light transmission tool, the transmission principle is -perfect reflection of light.Optical fiber HDMI, if it is to be sent to a display terminal, requires two processes: electricity to light and then to electricity.
TX and RX conversion reception: electric to light, light to electric; one electric light; one electric light; the right is a tricolor light, the left is an illuminated light; the right one is black. The device should be a microprocessor, the whole brain wire. Photoelectric conversion and microprocessor control, the whole package is particularly small.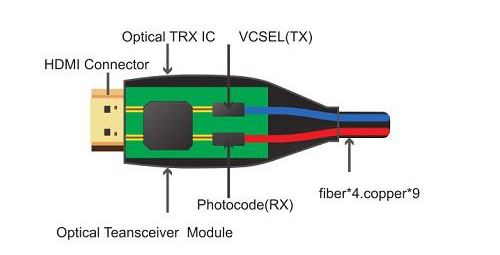 Please feel free to give your inquiry in the form below.
We will reply you in 24 hours.